It seems like the team will be investigating a serious drug group in Chicago PD Season 9 Episode 17. Unfortunately, the upcoming episode has been delayed for two weeks. Moreover, Kim and Ruzek will struggle to accept the reality of Makayla's abduction. Ruzek will also search for a family friend's daughter leading him to a drug scandal. So, keep reading ahead to know all the necessary details about episode 17.
Chicago PD Season 9 Episode 17 Preview: What Will Happen?
The seventeenth episode of Chicago PD Season 9 is titled "Adrift." The team will find themselves in the midst of a serious drug investigation when Ruzek tries to look for the daughter of an old family friend. Meanwhile, Burgess and Ruzek will continue to struggle with the emotional aftermath of Makayla's kidnapping. Moreover, after Adrian's death led to another dead end, Anna will continue to stay undercover and do Escano's dirty work to find some crucial evidence against him.
A Quick Recap!
In the previous episode, a masked man shot another man in front of Escano's bakery. Anna was still working undercover at the bakery while Halstead and Upton were staking out. Halstead rushed out of the car and shot back at the shooter to catch him. Upton went to the man who was shot. the victim asked Upton to take care of his pregnant girlfriend in the car. Soon after, Anna showed up to help them and pretended to be a stranger to Upton. The man was rushed into the hospital but he could not survive in Chicago PD Season 9 Episode 16.
The team discovered that the victim had been out of prison for good behavior and had been living a clean life ever since. He had did know the shooter either. Elsewhere, Anna tried to get some information about the shooter from Escano. Their conversation was interrupted when the shooter named Adrian showed up. Escano asked Anna to sow Adrian's wounds and drop the shooter at his house. Anna secretly met with Voight, Halstead, and Upton and told them about Adrian.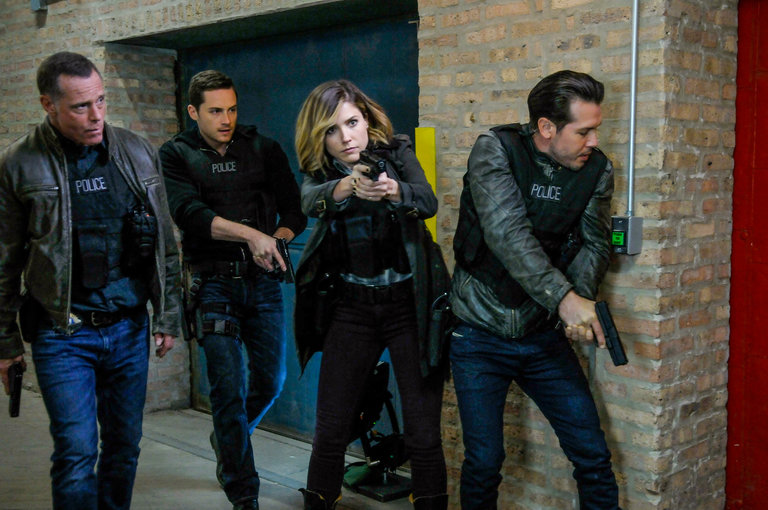 Further, Voight told Anna to get Adrian to confess anything crucial against Escano. The team found out that Adrian was the ex of the victim's girlfriend. He probably shot the victim out of rage. Voight decided to arrest Adrian at his house. However, Adrian pointed a gun at his head and shot himself. Anna met with Voight at his home and discovered that his family left him. All Voight had in his life was the job. So, she agreed to continue the undercover operation. After Adrian's death, Escano gave his job to Anna in Chicago PD Season 9 Episode 16.
Chicago PD Season 9 Episode 17: Airing Date
Sadly, the show will not return this week as the upcoming episode has been delayed. Now, NBC will broadcast Chicago PD Season 9 Episode 17 on April 6, 2022. The network will continue airing a new episode weekly on Wednesdays at 10:00 p.m. ET. And each episode of the ninth season will have an estimated runtime of 45 minutes.
Where To Stream The Returning Episode Online?
If you miss the latest episode on NBC, you can stream it on the network's website and the NBC app. Moreover, the current season is available to stream on Hulu+Live, Fubo TV, Sling TV, Hulu, DirecTV, YouTube TV, USA Network, and Peacock TV. So, don't miss out on episode 17, and stay tuned for more thrilling episode previews only on TechRadar247.com.