It seems like the struggles for Franklin, and his family will continue in Snowfall Season 5 Episode 6. He and Gustavo will have to find a way to escape while Louie and Jerome look for Franklin. Tessy will have to take the risky decision of trusting an old friend. So, keep reading ahead to learn all the necessary details about the sixth episode.
Snowfall Season 5 Episode 6 Preview: What Will Happen?
The sixth episode of Snowfall Season 5 is titled "The Illiad: Part 2." Franklin and Gustavo will find themselves in a cage next to a tiger. They will have to find a way to escape from the old man's house. Meanwhile, the street gang would be looking for them outside. Meanwhile, Teddy would be forced to put his trust in an old friend. He is injured and might need to hide the cocaine at this woman's place. Moreover, the identity of the man who ordered the hit on Franklin's organization and family will be revealed in episode 6.
A Quick Recap!
In the previous episode, Franklin and Louie tried to convince Jerome and Louie into investing in a downtown property. Jerome said $10 million was too much, while Louie said they had dreams too. Franklin was frustrated, but Veronique thought Cissy could convince them. Leaving Veronique and Cissy to deal with Louie and Jerome, Franklin took the family's Samoan bodyguard, Fetu, for the drop. Peaches suspiciously called in sick. Teddy showed up with Gustavo for the meeting, and Franklin came with Fetu.
Soon after, a van full of armed men arrived and opened fire on them. Fetu was shot and killed while Teddy was bleeding out. Teddy killed the driver, and Franklin backed his Cadillac into the van to escape. Teddy drove away while Franklin and Gustavo were left with two bags full of cash and no car. So, they walked on foot with bags on their backs. Franklin called Jerome and Louie to inform them about the attack, who were at the restaurant with Cissy and Veronique.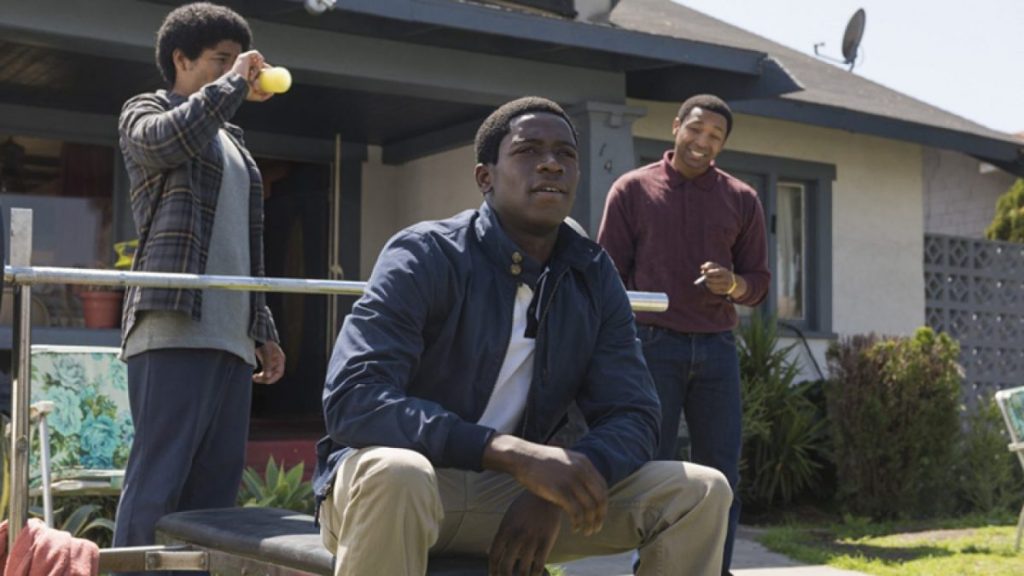 Unfortunately, another van pulled up at the restaurant and began shooting at Franklin's family. Innocent people were killed in the attack while the family was safe. Franklin heard shots and told Gustavo about it. A Latino gang member stopped by and asked them about the bags when they tried to leave. Gustavo tried to play it cool in Spanish, but one of the members saw a dollar bill through a bullet hole.
Franklin Gets Trapped, Teddy Gets Help From An Old Friend:
Franklin and Gustavo had to escape and hide the money. They ended up in an abandoned house and tried to call Louie and Jerome again. However, the phone did not work. A mysterious old man came from behind and tranquilized them. Franklin woke up in a cage next to a hungry-looking tiger.
Meanwhile, a third van attacked Leon and his crew during a meeting with Avi. Leon killed was of the men, but one of Avi's men was killed too. Jerome, Leon, and Louie regrouped to find Franklin while Cissy and Veronique were asked to stay put. Peaches was nowhere to be found, so they looked for Dallas and Black Diamond. Elsewhere, Teddy drove up to an old informant's house. She saved his arm and stopped the bleeding after she found the cocaine in Teddy's trunk in Snowfall Season 5 Episode 5.
Snowfall Season 5 Episode 6: Airing Date
FX will air Snowfall Season 5 Episode 6 on March 23, 2022. The network broadcasts a new episode weekly on Wednesdays at 10:00 p.m. ET. Fans can stream the latest episode on Hulu a day after FX's broadcast. So, don't miss out on the sixth episode and keep coming back for more thrilling episode previews only on Techradar247.com.